Activities & Attractions Cullercoats, Tynemouth & Whitley Bay
Come and see – our region is often called Britain's best kept secret.
There is lots to do on the doorstep of Cullercoats, something for all ages, of fun or interest. Equally there is ample opportunity to rest and relax, sitting on the beach, walking or simply enjoying the beauty of this gorgeous stretch of coast. There are many glorious coastal walks with uninterrupted sea views. Watching the sea and its ever-changing moods is a therapy in itself.
The conversion of the south bound lane of the seafront road from cars to cyclists in both directions, from Whitley Bay to Tynemouth, has been a great success. Many cyclists of all ages now enjoy cycling safely along the full length of the seafront.
Early birds can often see stunning sunrises which inspired our logo.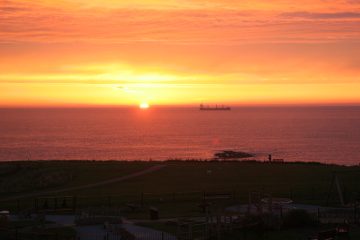 Come and visit – a warm welcome awaits you in Geordieland!
Local attractions
Cullercoats Lifeboat Station, Cullercoats Art Trail, Aquarium, Tynemouth Priory,
St. Mary's Lighthouse, rock pools, mini golf, maze, playparks
Famous regional attractions
Beamish Open-air Museum, Hadrian's Wall, Durham,
Alnwick Castle & Garden, Bamburgh castle, Lindisfarne Holy Island.
Links to many attractions are in the sections below.